Guest Inspections are sent from Happy Manage on the web, and not from within the mobile Inspections app, so be sure you're logged in to Happy Manage at www.happy.co using the same credentials you use for Inspections.
Once you're logged in to Happy Manage, navigate to the property folder you're working under, and then to the inspections list

In your inspections list, select the box to the left of the inspection you wish to send

A tab will appear, prompting you for the name and email address of the person you need to send the inspection to

You can also add any additional information as a message to the inspector

Hit "send" and the inspection will be sent!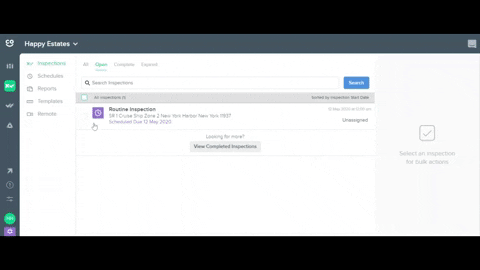 Requiring a Signature
The guest inspections can be configured to require a resident to sign them digitally on completion - this signature will be automatically added to the report created, and the signature requirement is configured using the Report Workflow feature in Happy Manage when editing an Inspection Template.
In the Report Workflow settings for a template, Enable Automated Workflow and Generate Inspector Report must first be turned on. Once these are turned on, the workflow must also have Require Signature (Guest Inspections Only) enabled.