This Help Article covers:
Installing Inspections

Updating Inspections

Your device limit

How to unlink a device from your user account

How to link a device to your user account
Installing Inspections App
To install Inspections search for 'HappyCo' on your Apple App Store or Google Play Store and install Inspections by HappyCo. Make sure the app you're installing has the following icon: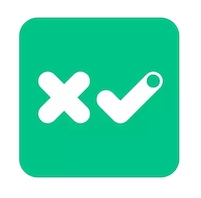 Updating Inspections
Always make sure you're using the latest version of Inspections before you head out to perform your inspections. The easiest way to check is to look for your app in the Apple App Store or Google Play Store on your device and check to see if it's asking you to update.
Tap Update under your Inspections listing on your device in order to update to download the latest version.
Your device limit
Every user account in your HappyCo business can install Inspections on two devices maximum.
This means each inspector can have it installed on their iPad as well as their iPhone. This means if an inspector leaves their iPad at the office when they head out, they are able to perform the inspection on their phone and keep things moving.
Please note: every, single installation of the app is counted as a device in our system, even if it's the same physical device. Refer to the example below.
An example, to illustrate the two device limit:
You initially install Inspections on your iPad.
You later need to perform an inspection when your iPad isn't available so you install it on your iPhone and login no problem and complete your inspection.
Later, for some reason you delete and re-install the app on your iPhone.
At that point, when you go to login to Inspections which has just been re-installed on your iPhone you will have reached your Inspections device limit and will be prompted to Manage Devices before logging in.
WARNING: deleting the app is not recommended. Always contact our friendly Support team before removing the app as you may lose any data or photos that haven't uploaded to your account).
You'll need to follow the steps below to unlink the first installation of Inspections on your iPhone.
How to unlink a device from your user account
To unlink, or remove a device, from your user account you will need to login to your Happy Manage web app.
Login from our homepage happy.co then click on your profile down the lower left.
Click on the Devices tab and look for the device in the table and click on the red Remove link.
If you've installed Inspections on the same device and having trouble distinguishing which device to remove, refer to the Last Signed In column as a guide to which device was the first installation.
Once you've unlinked one of your devices, you're now able to install Inspections on the third 'device'.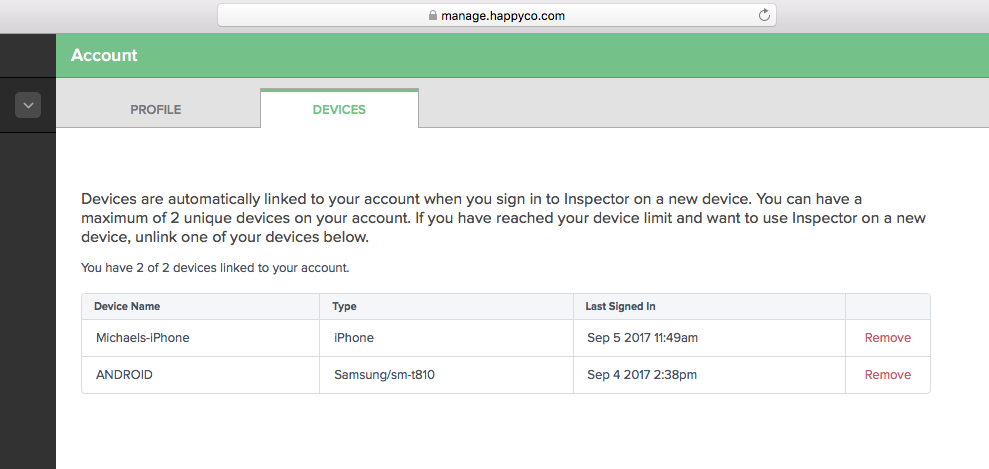 How to link a device to your user account
To link a device to your account you only need to login to Inspections on that device.
Nothing further is required.
Please note: the first time you login on a device you must be connected to the internet by either wifi or cellular.
If you're on a wifi only device you will need to sign in to Inspections before you leave the office.