This article covers the 3 types of rating items for inspections and how to toggle them on and off in an inspection.
Ratings Items: the 3 types of ratings
To rate an item tap on the rating selection on the left-hand side of the inspection screen.
Checkboxes
Circular checkboxes allow you to select all of the ratings that apply to that item. If you have a bed that is is Good and Clean for example, you can select both of these:
Drop-down list
A drop-down list will appear as a rectangle on the left-hand side of your app. Tapping it opens up a menu of options and you can only select one, the most appropriate rating.
Radio buttons
Radio button type ratings are rating sets that allow you to only select one option, for example, if your rating is Yes or No, you can only select one of these.
Checkboxes: rating and un-rating the Bed item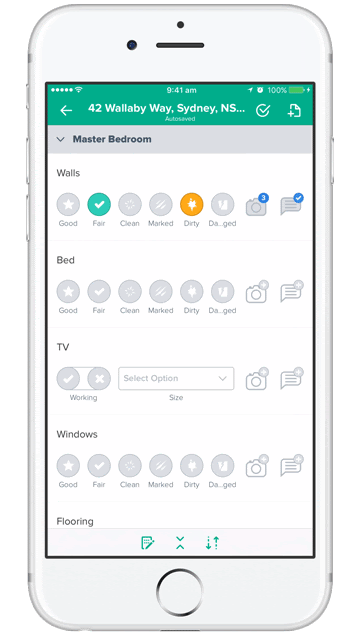 Undoing a rating
To undo a rating tap again on the rating which has been selected.
Rating all items in an inspection which have the same rating type on iOS
You can quickly rate all the items in a room or all the items in an inspection which share the same type of rating set by tapping and holding on the rating.
Tap and holding on a particular rating will bring up a dialogue to Rate All Items.
Tap Rate All to rate all the items in your inspection which share that same rating set.
Tap Only in the section's items to rate just the items in that section.