Purpose:
This article will cover the basics of using the Document Management feature within Happy Property.
Navigating Documents within the Happy Property Manage Application:
The Documents area is made available after you have selected a Property: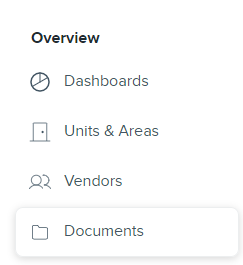 The folder structure is comprised of Units and Vendors, where you can find individual folders for each Unit and Vendor. As you drill down (by double clicking) to the corresponding Units and Vendors folders
This folder structure will automatically generate to reflect the way your property is structured within Happy Property.
To navigate back up the folder tree, you can click on the breadcrumb bar on top of the page to land directly at the level you need to:

Selecting a different property will refresh the Documents section to present the folders list reflecting the structure of the selected property.
Folder List Properties:
The folder list will always show any nested folders on the top of the list, sorted by Name in ascending order (by default).

Any files attached to the folder are presented underneath also sorted by Name in Ascending order.

The sorting order can be modified by clicking the Name column heading, and folders will always show on top of the page.

All other columns on the list (Extension, Owner, Date Added, Expiry) allow for file sorting by clicking on them.