Purpose:
This article will cover how to upload documents using the Document Management feature of Happy Property
How to Upload Documents:
To upload documents to any auto generated folder - first navigate to the folder you wish to add your files to and click the upload button in the top right corner.

Next, use the newly opened upload panel to add files.
You can either browser your computer, or drag and drop files to the drop zone within the dialog

Maximum 50 files per upload - unlimited number of files per folder
Individual file sizes cannot exceed 100MB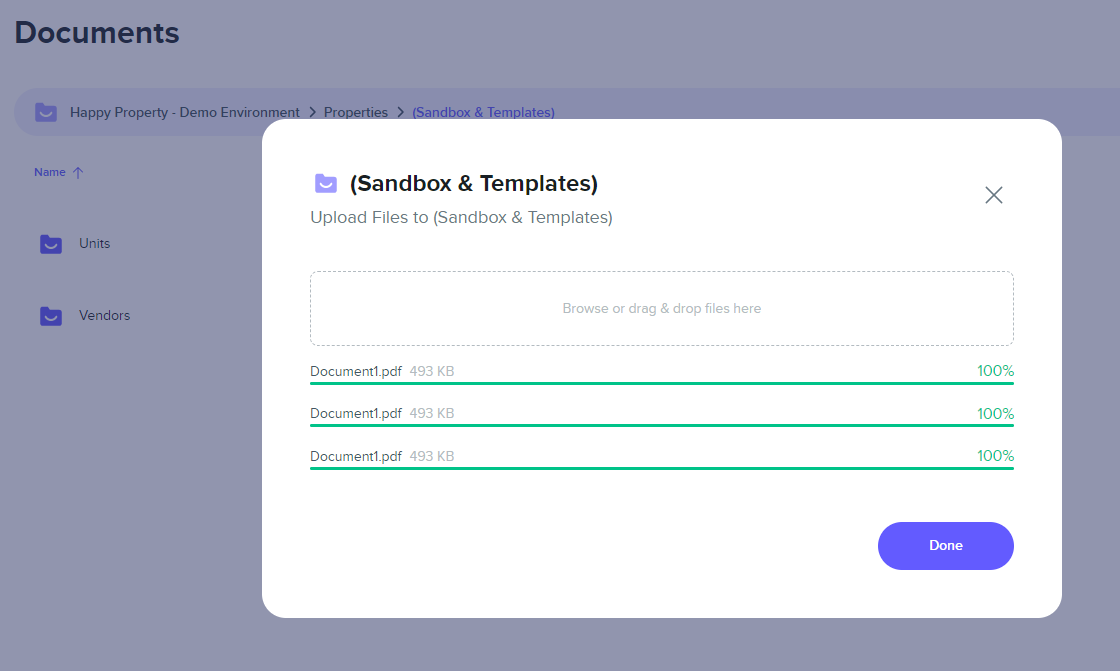 File supported formats are as follows:

Images ( .bmp, .gif, .jpeg, .jpg, .png, .svg, .tif, .tiff, .webp)
Documents (.doc, .docx, .dot, .odp, .ods, .odt, .pdf, .ppsx, .ppt, .pptx, .vsd, .xls, .csv, .tab, .tsv, .rtf, .txt, .xlsx)
Audio (.3g2, .3gp, .aac, .m4a, .mid, .midi, .mp3, .oga, .ogg, .wav, .weba)
Video (.3g2, .3gp, .avi, .mov, .mp4, .mpeg, .mpg, .ogv, .ts, .webm, .wmv)
Video - NVR (.dav, .asf, .box, .bix, .dat, .264, .h264).