I did an inspection in the Inspections app but it's not syncing with my Buildium account, why?
Excellent question! First step, make sure you've prepared a report in the Inspections app from the inspection you've just completed.
Reports are a snapshot of an inspection at a particular point in time and they let you share your inspection. If you're unsure, please refer to FAQ: Creating Reports in Inspections and FAQ: Editing Your Report Settings.
Second step, make sure it's from a property that's been created via the Buildium integration and not a property that's been added inadvertently in the Inspections application. Inspections only syncs reports with the properties that have been added to it by the Buildium integration.
I prepared a report from my inspection in the Inspections app, where is it in Buildium?
Your Inspections reports should appear in Buildium under Maintenance Property Inspections or under the property's Unit's page (see Buildium for further detail).
If you're confident you've prepared a report from the Inspections app and they're still not appearing in your Buildium account, make sure all of your data and photos has uploaded off of the device the inspection was performed on. In your Inspections app, please look in the Cloud Activity window to see what's left to upload and make sure it has all synced as shown below: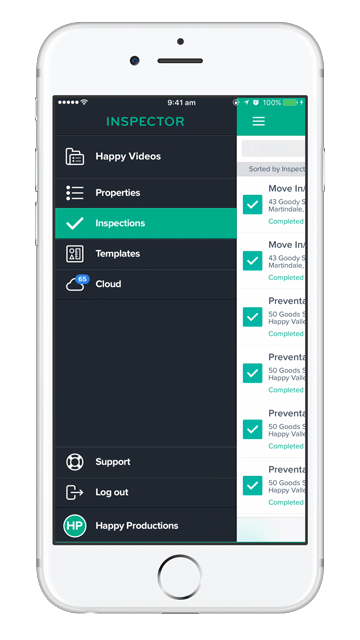 If you're having trouble uploading your data and photos, please review our FAQ page on uploading your data here: FAQ: Troubleshooting Sync

If everything, both Data and Photos, up-to-date and your reports are still not appearing in Buildium, please get in touch with your Buildium support team.
Where can I get more help with my Inspections app?
As a Buildium customer, Buildium Support handle all of your support queries. You can contact them by submitting a support ticket directly through your Buildium account. You can also call them on 888-414-1988.
But you may also find answers to your questions by browsing our Inspections support site: hpy.io/support
Can I customize the reports in my Inspections app?
Yes you can! You can definitely add logos, business and contact details and make sure your reports truly reflect the level of service you provide to your landlords. For help with this, as a start, please review our FAQ: Reports in Inspections App.
Can I customize the templates in my Inspections app?
Absolutely! You can customize your templates on your iPhone, iPad or on our website. The web can be a bit easier so a great place to start is this section in our guide, What is a Template.
If you're also wondering how to customize the layout of your inspection while you're performing one, please review our FAQ: Performing Inspections - Navigating and Editing the Inspection Layout.
Does Inspections come with a manual I can read?
It certainly does! If you have questions about our service, you're more than welcome to browse our Help Articles or one of our Complete Guide to Inspections App for your device, iPhone, iPad or Android.
I'm seeing a pricing page for Inspections when I go to login to your website, why?
Being the forward thinking Property Manager you are, it's possible you signed up for, or downloaded a trial of Inspections previously? If that's the case, please still contact Buildium Support in the first instance to help get sorted.
How much does the Buildium integration cost?
Probably the most important question! ☺
For all questions around pricing and the terms of our integration of the Inspections app with Buildium, please get in touch with the Buildium team.