This article covers Report Workflows, which allow you to automatically generate reports from completed inspections, and control the report type and report presets.
Report Options
If enabled for your business, Administrators and Process Managers have access to an Edit Report Workflow button

This can be found in the menu box on the right when you open a Template in Happy Manage

Please note: Report Workflows will be copied along with any templates that are copied
Report Workflow Tab
The Report Workflow Tab has five customizable settings: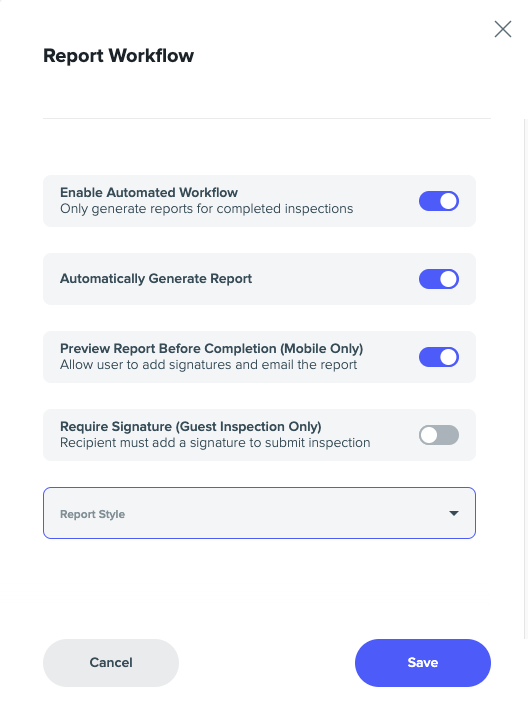 Enable Automated Workflow: Instead of incomplete inspections displaying the Create Report icon (iOS) or the Add Report option (Android), incomplete inspections will only display the Complete Inspection icon when this is enabled.

Automatically Generate Report: When enabled, a report will automatically be created, when Complete Inspection is chosen using the defined Report Type and corresponding defined Preset from the Report Presets tab.

If no Report Type is set, you will be prompted.

If no Preset is set, it will fall back to the most recently used Preset that was used for that Report Type.

If this is disabled while Enable Automated Workflow is enabled, no report will be generated when the Complete Inspection action is chosen.

This setting will be disabled if Enable Automated Workflow is disabled.

Preview Report Before Completion (Mobile Only): When enabled and Complete Inspection is chosen, you will be directed to the Report Preview screen instead of having the report automatically created.

This will allow you to preview the report, where you can then sign, send or complete the report.

This setting will be disabled if Generate Inspection Report or Enable Automated Workflow is disabled.

Require Signature (Guest Inspection Only): When enabled, this will require guest inspectors or residents that are sent an inspection to add a signature before completing the report.

Report Style: This allows you to set a Report Type that will be used when generating a report automatically.

You may choose No Default to allow the inspector to decide which type to use.

This setting will be disabled if Generate Inspection Report is disabled.